Il tool FAW TORRENT permette di acquisire e certificare il download di un file torrent.
All'avvio del tool viene aperta una Finestra in cui si può inserire un file torrent (cerncardolo sul proprio computer) oppure indicando un magnetic URL (Fig. 1).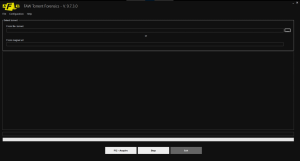 Fig. 1
At this point you have to press the [F12 – Acquire] button and the acquisition will begin; a progress bar will show the download progress.